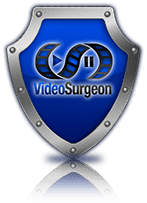 Video Surgeon provides all intra-version updates free. For example, if the current version is 2.0.0.1 and an updated version 2.5.0.0 is released, all version 2 customers would get this update free of cost. All current versions of Video Surgeon are stored on the Video Surgeon Help Desk in the Downloads Section, and can be accessed and downloaded at any time.
Releases of new major versions are not free. When a new major version is released, for example going from version 2 to version 3, all existing customers will be entitled to one of these discounts.
---
NEW RELEASE DISCOUNT
If you purchased Video Surgeon within 10 months of the release of a new major version, you are entitled to the following "New Release" discount, in addition to any other available discount which may be offered. This discount will automatically be calculated and applied to your order.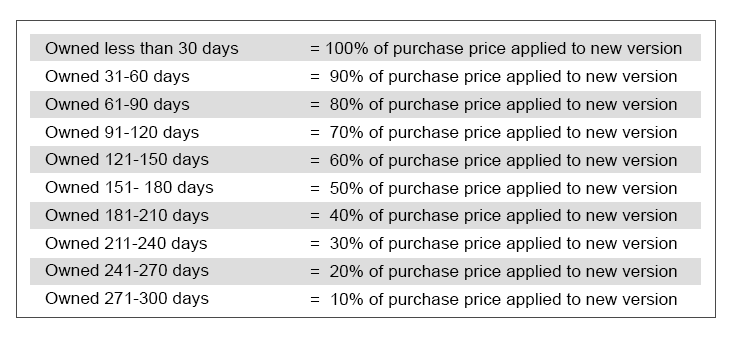 To be specific, if you purchased Video Surgeon for $34, and your purchase was 245 days BEFORE we released Version 3, then you would receive a 20% discount, or 20% x $34 = $7.80. This $7.80 credit would be applied to your purchase of Version 3. This credit will be calculated on the cost of the product only, not on peripheral purchases such as the CD, postage, extended support plan, additional licenses, etc.
Lastly, this New Release Discount program is
only available for a 6 month period after launch.
Thereafter it will be closed and the only discount program available will be the Customer Discount program discussed immediately below.
---
CUSTOMER DISCOUNT
If you did not purchase within 10 months of the release of a new version, then the following discount will apply. This discount is off of the regular site price, not the sales price, and it cannot be added to other sales discounts that might be in effect at the time you purchase.
All version 1 Owners: 20% off the Regular Website Price
All version 2 Owners: 30% off the Regular Website Price
If you are an existing Video Surgeon 2 customer, you will need to log in on the Video Surgeon order page. Once logged in our system will located your order, calculate your discount and apply it to your order.